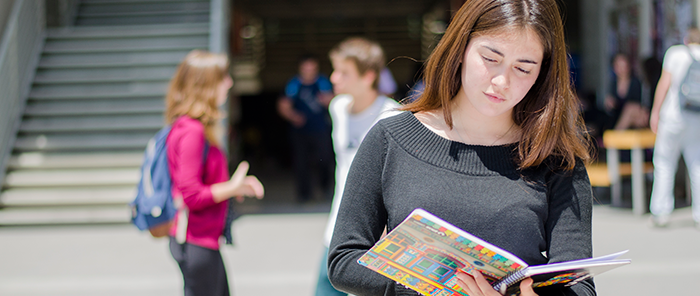 Graduate Profile
Universidad de Chile Accountant Auditors are professionals noted for their sound preparation and ability to produce, present, explain and corroborate financial and economic data. They are highly capable, able to offer an informed view as to the reliability of information and any related organizational risk, acting within interdisciplinary technical and ethical framings.
A professional of the right calibre has been trained to carry out evaluations and make proactive proposals for improvement, offering a balanced critical view of the advantages and drawbacks of existing systems of control, and their organizational impact. Professionals in this field also need to work well under pressure, adapting well to a range of complex situations and displaying outstanding leadership credentials at the highest level of their organization. Their integrated strategic vision seeks to contribute to the common good, encouraging good citizenship in and beyond their organization.
The training model that we use aims to cultivate a managerial vision that appreciates the everyday problems created in the decision-making process. A systemic, interdisciplinary perspective equips graduates to lead organizations facing complex challenges.
At undergraduate level, teamwork and the cultivation of a questioning, critical mindset are encouraged: traits which will help the future professional to be an objective, independent, and reliable evaluator.
Career Prospects
Universidad de Chile Accountant Auditors have a wide range of professional options open to them, whether in the sphere of business or beyond.
Those who work within organizations are able to produce systematic, orderly financial reports showing a company's income and outgoings, contrasting assets with liabilities, setting out profit or loss for a particular time period, etc. Accountant auditors also prepare other types of report, in accordance with prevailing norms.
Accountant auditors can also work as systems auditors, evaluating systemic security and offering recommendations; while internal auditors evaluate company risk. Taxation is another area where accountant-auditors often work, using their knowledge of franchises, agreements and deductibles to ensure compliance with taxation regimes.
Graduates in this field might also find themselves employed as external auditors, reviewing processes and their workings, evaluating the current state of affairs in a company, and comparing it with established patterns. An auditor's report is then produced, offering observations and recommendations that can help achieve greater efficacy and efficiency. External auditors also carry out final scrutiny and certifications of internal auditors' versions of financial accounts.
Some also work as consultants in any or all areas of the auditing profession (risk, processes, systems, taxation etc.), offering advice to businesses as management consultants.